In Scene Stealers, creative individuals setting the trends in music, art and nightlife break
down their three key style inspirations
In 2015, cult style and nightlife icon Ladyfag is being pinned as the woman saving New York City underground club culture. With her semi-monthly warehouse rave, SHADE, a celebrated staple (and favourite late-night haunt of Alexander Wang and Riccardo Tisci), she stands to offer a lot of insight on the art of nightlife, transcendent style and, of course, experimental makeup. For the sci-fi-friendly aesthete or drama fan, her Scene Stealers beauty icons are filled with first-rate avant-garde inspiration.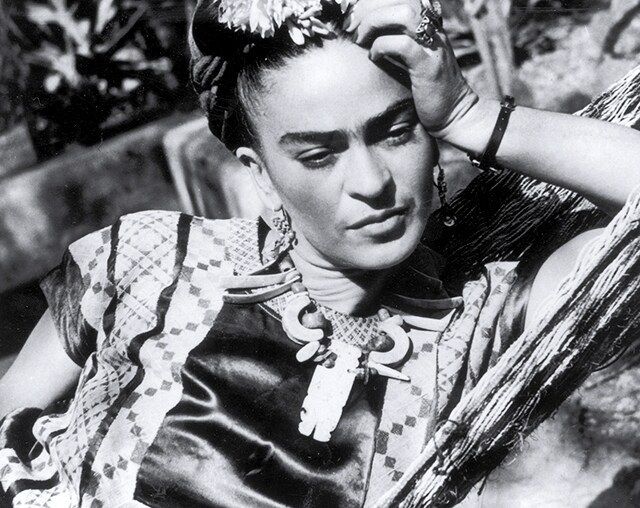 Frida Kahlo: "My looks are often inspired by Frida – to the point that many people assume that I'm Mexican"
Frida Kahlo:
"Frida is one of the biggest icons that has pervaded my looks and my life since I was quite young. My Hebrew name is actually after my Hungarian great grandmother Frida and was taken away from me from when I was little when they tried to assimilate me in school. Part of my rebellious side started by reclaiming it. I spent lots of time in Mexico. I loved traveling to villages and seeing indigenous women dressed in their traditional clothing and the way you can identify a people through their dress. It definitely awoke a feeling in me about people finding their tribe, even if it's not by blood or geography, but dressing as a way of conveying identity. My looks are often inspired by Frida – to the point that many people assume that I'm Mexican. It doesn't help that when they ask if I am, I usually lie and say yes! Whether it's Frida or Siouxsie Sioux, it's all about the eyebrows! Every time I'm in a makeup artist's chair, one of the first things they want to do is to try and tame my brows – I never let them!"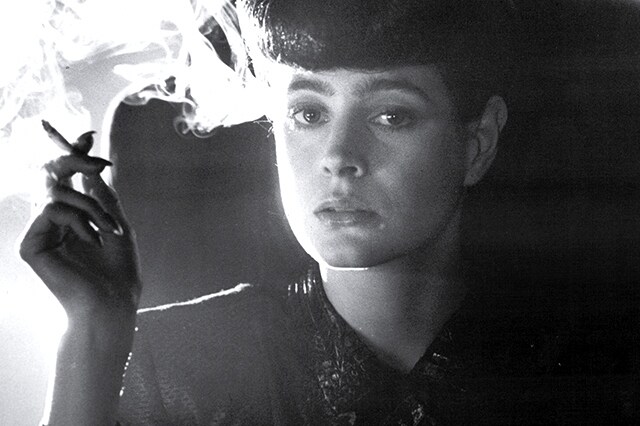 Rachael from Blade Runner: "She gives Tina Turner from Mad Max and Princess Leia a run for their money"
Blade Runner, Replicants:
"Rachael was the ultimate woman. Mysterious, chic, the shoulder pads...the hair! And much like in Cosmo, you could go from day to night, by switching from Rachael to Pris. Pris is STILL an inspiration for my club looks. Wigs, smoky eyes, and back flips! She gives Tina Turner from Mad Max and Princess Leia a run for their money. I end up looking like their lovechild on the dancefloor."
Mrs. Lovett from Sweeny Todd:
"I'm a gothic Vivienne Westwood creature by day. Yes, even this vampire needs day looks! I often end up looking like a Tim Burton character. One time someone screamed "Beetlejuice!" at me on the street...why thanks, charmed, I'm sure! Couldn't think of a bigger compliment."
What is the key component to your own look?
It's beyond me, but my armpits seem to triumph everything else! I think it's shocking that in this day and age in a city like New York, that would be the case – but it is. I've had it since I was a 15-year-old hippie! People tag random women with hairy armpit hair on Facebook as me and say, "Hey! It's just like you."
"How do you move towards acceptance? You make it a trend first"
How do you feel about its new trendiness in fashion and beyond?
In fashion, right now there's a feeling of "attempting to accept other things." So, how do you move towards acceptance? You make it a trend first. But it's still obviously a positive thing and a step in the right direction. I'm more shocked when people DON'T accept it.
Do you have any peculiarities to your own makeup ritual?
First of all, I never use my makeup correctly. I like putting eyeliner on my lips, and sometimes lipstick is good for your eyes. I don't think there should be rules. I play with my eyebrows, Frida style. I use M·A·C Carbon on them, and I sometimes bring them to the centre or up. Or I'll do a Siouxsie Sioux eyebrow. I think more is more! My most natural look is far from natural.
What are some of the craziest things you've used as makeup?
I've definitely glued almost everything on my face at one point or another. We did a futuristic, dystopian theme for one of my SHADE parties, and I kind of played with a Blade Runner look, but I added like four metal plates, and I could not even open my mouth. Another time, I had all these studs glued into my eyebrows, and I fell asleep in them. They were all perfectly in place the next day, but it was definitely a LOOK.
What are some of the challenges that NYC in 2015 presents when it comes to keeping the freedom, glamour and egalitarian spirit of dance music alive?
The biggest problem is NYC itself. Now I am not one of those NYC naysayers! I love my city with a passion. But the reality is that the city is becoming increasingly expensive and that trickles down. Club owners have to charge more to cover the costs, and the wealthy push out the small establishments. One of the things I love about NY is it filled with this energy of so many creative people who come here chasing their dreams. Unfortunately, now you need to come with your dream and a plan!
What do you hope a partygoer feels and experiences when they enter your party for the first time?
Welcome.