MOVIE MAKEUP GETS THE INSIDE TAKE ON THE FRESHEST LOOKS IN THE MONTH'S HOTTEST MOVIES
Steeped in outrageous capers and even more outrageous outfits, the big-screen debut of Absolutely Fabulous also marks the return of BAFTA award-winning makeup artist Christine Cant. Whether it's iconic champagne-loving duo Patsy and Edina, the 60 celebrity cameos – including Kate Moss, Stella McCartney, Jerry Hall, Jean Paul Gaultier – or the army of drag queens, the results are absolutely fabulous, darlings. M·A·C Director of Makeup Artistry (and Ab Fab superfan) Terry Barber was at the film's UK premiere to chat with Christine, and give his expert appraisal: "It's silly, slapstick, irreverent and packed with one-liners. Think of it like an Ab Fab Greatest Hits." Here, they discuss working with Kate Moss, Christine's favourite products, and her modern approach to the characters' beloved looks.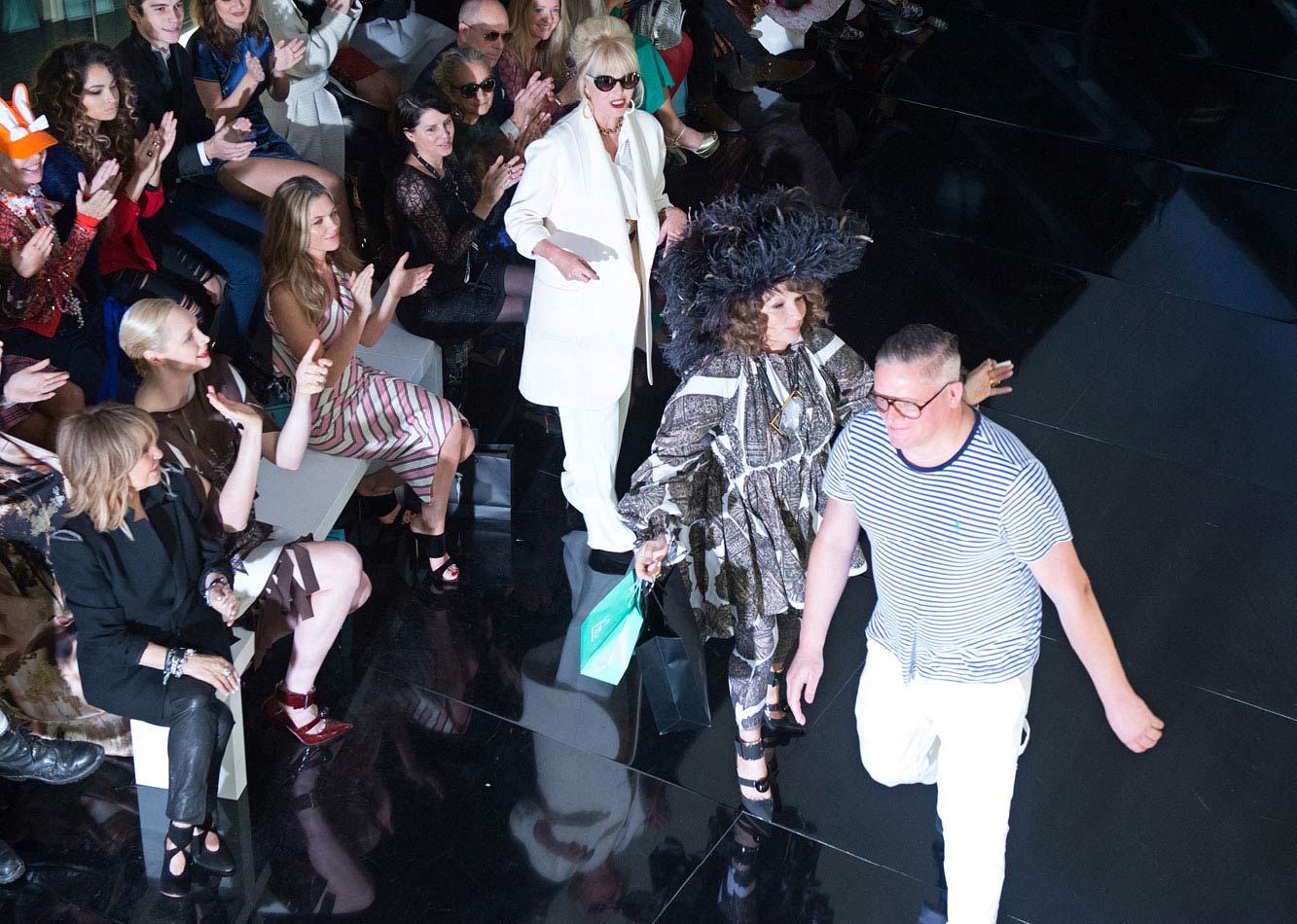 When did you first begin working on Absolutely Fabulous?
The characters were already established when I began working on the series. I started with a special episode called "The White Box" and received a BAFTA nomination for the makeup on that one – I hit the ground running!
How was it taking your work on this long-running show and transferring it to film?
The film is just a lovely big episode and, to be honest, didn't feel all that different. Same cast and many of the same crew. Technically, there was very little difference, we've been using high-definition in television for a long time, so we are used to precision and finesse. I do believe it's the same job.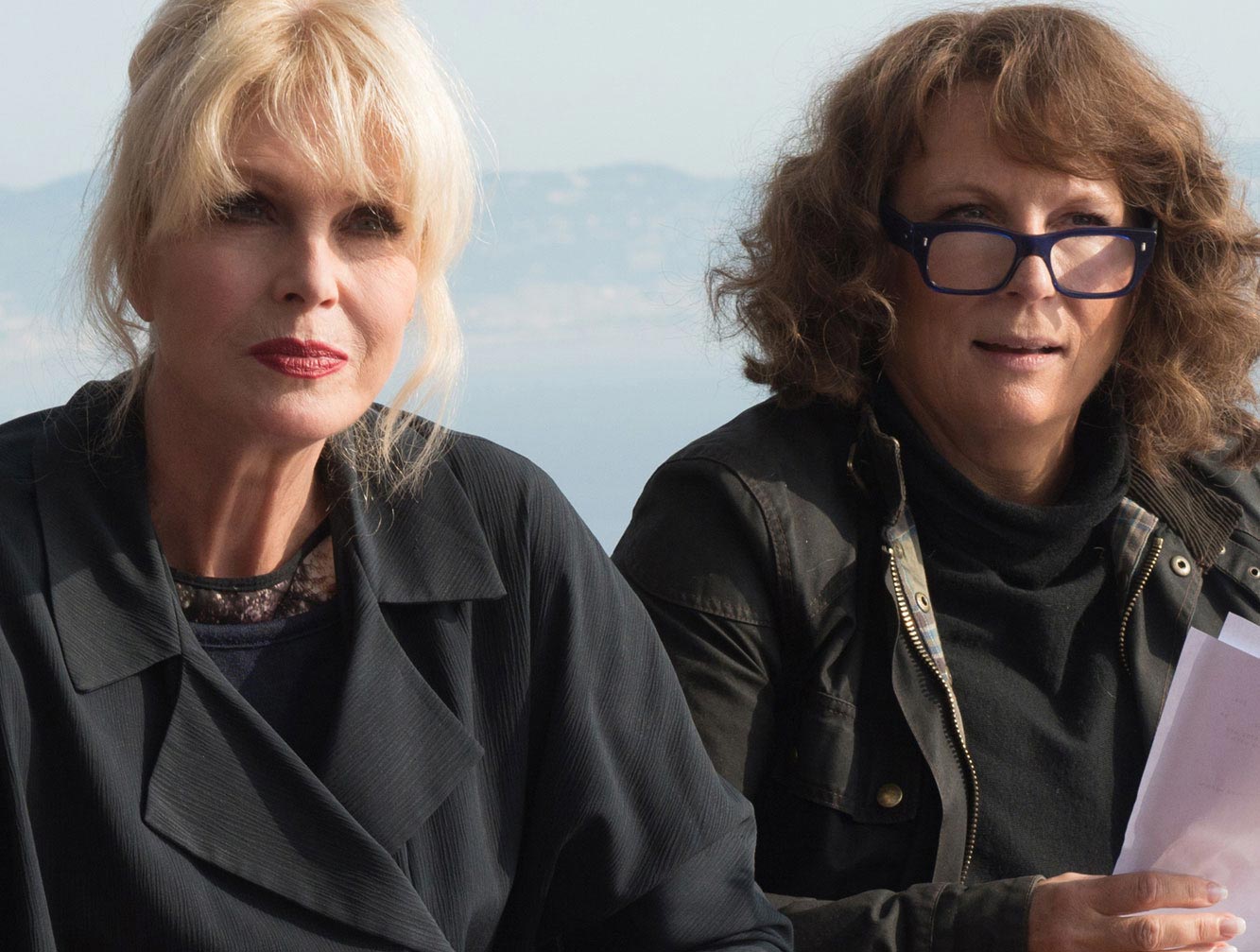 "Very occasionally, Patsy's lipstick will smudge or her hair will be slightly disturbed, but like a cartoon she will be back to normal in the next scene." – makeup designer Christine Cant
How did you approach each woman's look?
Patsy, in particular, is fairly set in stone (pun intended). She is impervious to change unless something in the story demands it. For example, in the film she becomes "Pat," complete with moustache, for plot reasons. Very occasionally she finds herself in a situation where her lipstick will smudge or her hair will be slightly disturbed, but like a cartoon she will be back to normal in the next scene. Edina is more susceptible to change but she has always been proud of her Marisa Berenson hair so that doesn't change. Also, as a device, it works to keep the central characters instantly recognizable.
Remember, Patsy and Eddie are mature women now, and at that point we have usually worked out what suits us, particularly if you work in the industry. The fun comes with the more fluid characters, Bubble and the guests.
The cast features an impressive number of drag queens and supermodels – how was it creating those looks?
The Supers are so easygoing. They are used to being made into whatever is required for a shoot, and I think they were happy just to be made into a lovely version of themselves for the film. Kate, in particular, was a treat – she didn't even flinch when she was up to her ears in Thames Water. London is gifted with some amazing drag queens. Most of them turned up very early in the morning sporting full drag. My team finessed a bit to perfect the looks for camera, but they all had such distinctive looks that it would have been criminal to impose a film makeup on them. There was a great real quality to them, and I'll never forget the sight of the 80 glorious queens traipsing toward the Royal Vauxhall Tavern during rush hour on a grey London morning.
What were your favourite products that you used in the film?
M·A·C was so generous in supporting us on this film! I asked for lots of new products and got them. Obviously there was a bucket of Strobe Cream used at the Huki Muki party. I love the Pro Longwear Paint Pots as a base for other colours – they last all day, and filming days are long days!