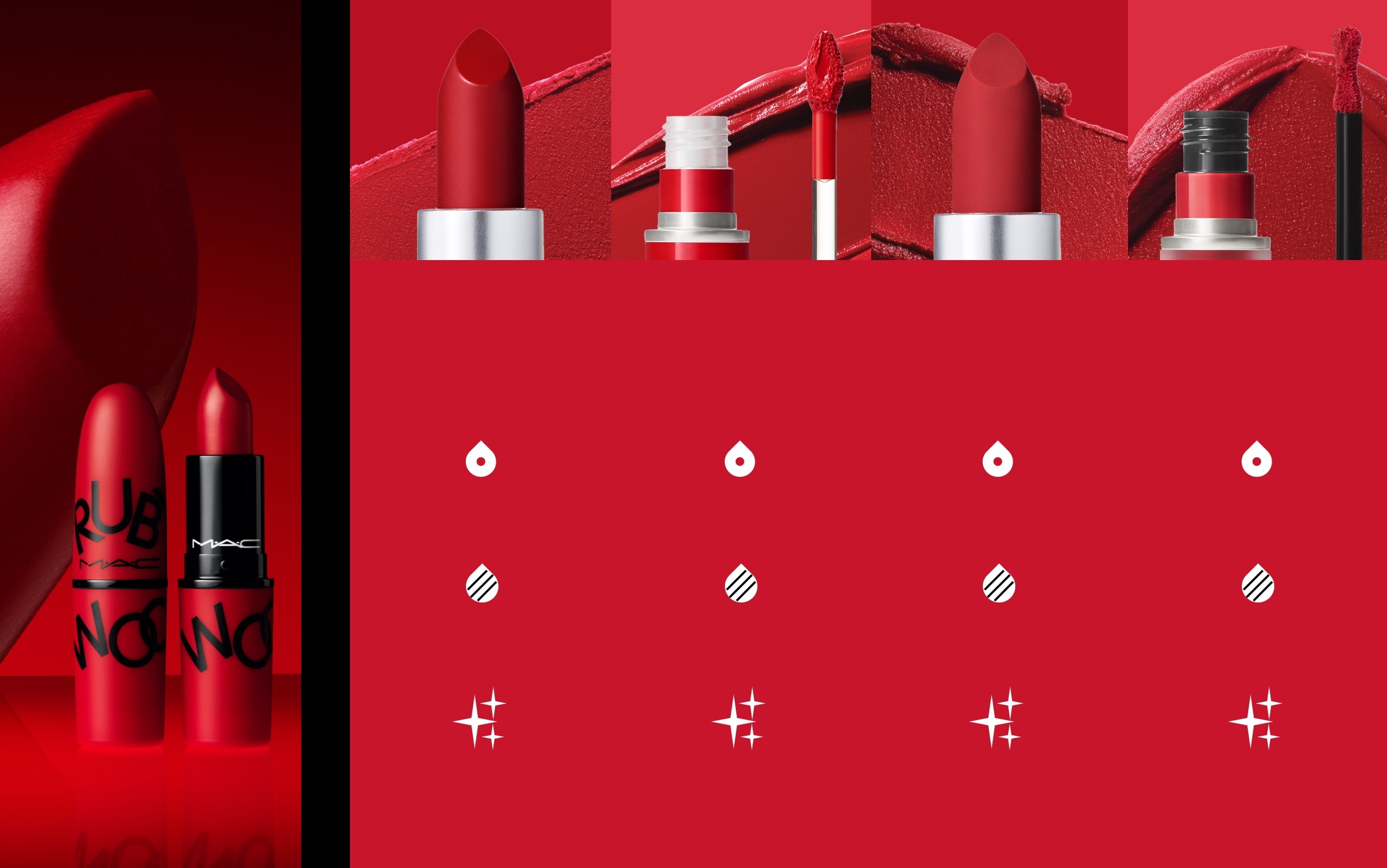 RUBY'S LIP
COLOUR
GUIDE
Find our iconic vivid-blue red
hue in the fan-favourite formula
(or two!) that's right for you.
COMPARE BENEFITS
COLOUR PAYOFF
FINISH

OUR WORLD-FAMOUS RED LIPSTICK –
NOW IN 4 FAN-FAVOURITE FORMULAS
There's plenty of Ruby Woo to go around – because her iconic vivid blue-red colour
now comes in four formulas and textures that are ALL world-renowned.

RUBY WOO DONS
A NEW LOOK, TOO!
Each member of Ruby's Crew comes dressed
to impress in a limited-edition monochromatic outfit.
Introduce your lips to every new texture
of our world-famous red Lipstick!
SHOP NOW
RUBY WOO FOR YOU, AND YOU AND YOU!
Love our iconic vivid blue-red hue…but crave a little moisture – or prefer a liquid lip colour?
Ruby's Crew has got your lips covered. Swipe right to meet every new member!
RETRO MATTE LIPSTICK
IN RUBY WOO

Iconic. Bold. Universally flattering.

Our most famous Lipstick icon – this mattest-
matte, vivid blue-red is known around the world
as THE universal red that radiates on everyone.
She's a fan-favourite, a crowd-pleaser and a
supreme style statement – making her
our most famous red lipstick of all time.

POWDER KISS LIPSTICK
IN RUBY NEW

Stylish. Playful. Quixotic.

She inherited everything you love
about Ruby Woo: her colour, her energy,
her class – but of course, she added
her own soft touch of sass. It's no surprise
that people can't resist her:
She's Ruby Woo's on-trend little sister!

POWDER KISS LIQUID
LIPCOLOUR IN RUBY BOO

Energetic. Carefree. Magnetic.

Want a weightless kiss of everyday colour –
or crave an extra hit of hydration when
you're hanging around the house?
Fall in love with Ruby Woo's
moisture-matte spouse!

RETRO MATTE LIQUID
LIPCOLOUR IN RUBY PHEW!

Passionate. Romantic. Glamorous.

For those who prefer timeless glamour
to all-out flash, Retro Matte Liquid Lipcolour
always reigns supreme. Ruby Phew! puts
her own tantalizing twist on the classic
matte texture – so, get ready for your lips
to live the screen-siren dream!


CATCH
RUBY'S CREW
IN ACTION!
Introduce your lips to every member
of Ruby Woo's all-new A-list crew.


Works Well With Others
Polish off your Ruby Woo lip look with these perfect pairings.

WANT MORE HELP WITH YOUR RUBY WOO LOOK?
We've got you covered with these other online services.