Fresh talent, on the rise…
Culture of M•A•C breaks down just why we love
the latest scene stealers and style leaders
Cakes da Killa, aka Rashard Bradshaw, is a 24-year-old rapper from New Jersey. Openly gay and often seen lighting up the stage wearing fashionably on point outfits, Cakes is rising up to claim his place as a rap style icon and a powerful voice for the gay black community. From recording tracks as a sophomore in college in New Jersey, to performing last weekend at Brooklyn's Afropunk festival on the same stage as the legendary Grace Jones, Cakes's self described "gift of gab" and high-octane live performances are taking him places he's never dreamed.
Cakes is freshly home after touring Europe promoting his Hunger Pangs Deluxe Edition mixtape, where each show was crafted as its own unique showcase of rap-meets-visual-spectacle. We hung out with Cakes backstage at Afropunk to chat about his crew of creative collaborators, his killer new stage makeup look, and the importance of bringing black excellence centre stage.
1. Cakes da Killa got his name off a read...from himself.
"I named myself Cakes 'cause I had a big butt! And now my friends actually call me that, so that's how I know it's cute. I wanted something sweet, something that was kinda effeminate. It's hyper-feminine and hyper-masculine, too – the combo."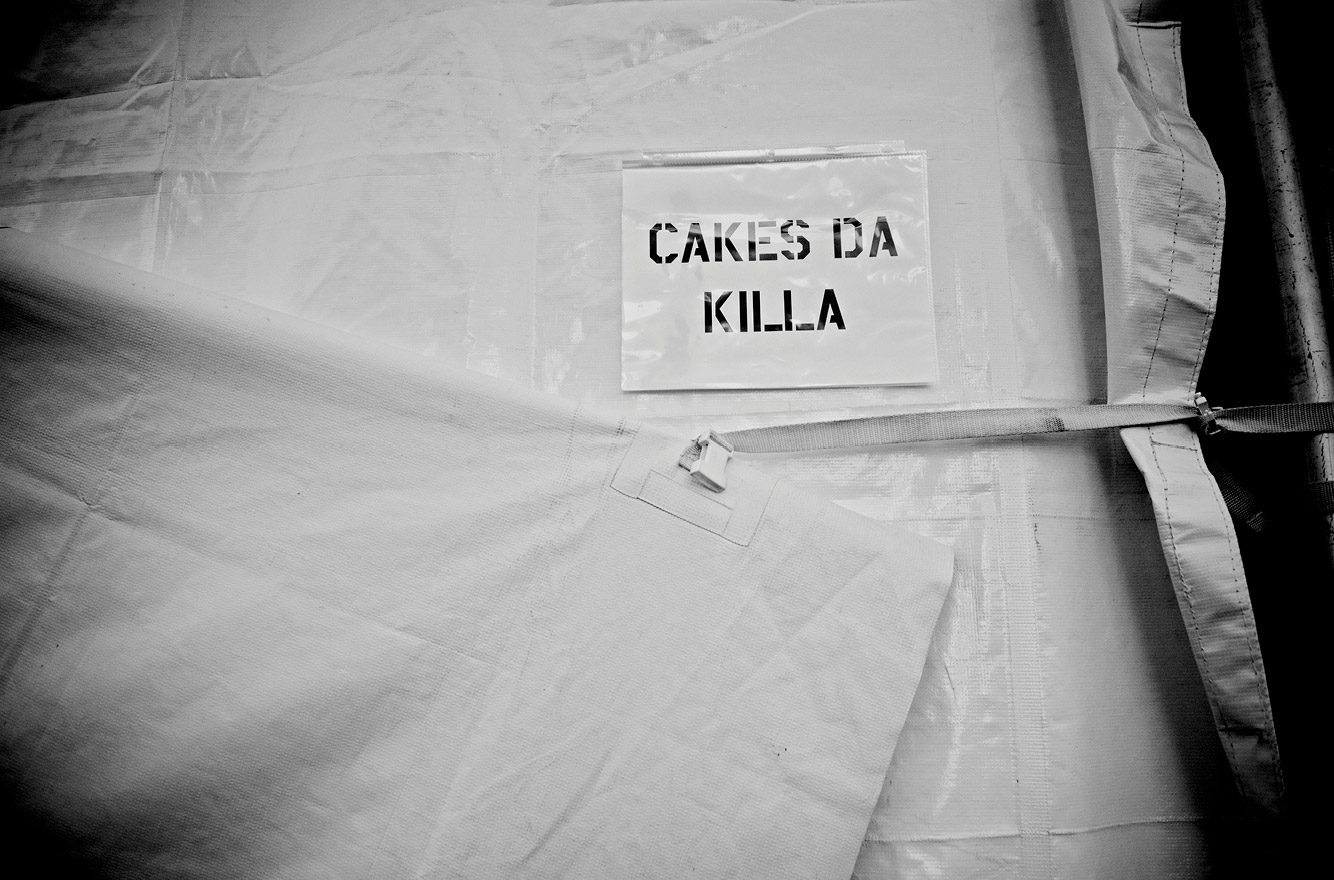 2. Cakes' afro-futuristic look for his Afropunk performance this year was inspired by 90's rap videos.
"I drew a lot of inspo from tribal African face painting, adding in a touch of afro-futurism. I love the way Missy Elliot and Busta Rhymes sometimes used futuristic themes in their music videos."
"Maybe when I'm selling out Madison Square Garden I'm gonna order a dolphin, but I'm not there just yet." – Cakes da Killa
3. His fantasy rider has dolphins on it. And naked dudes.
"My rider is way basic. Like, caviar! Lobster! And you know, naked dudes…HAHA! Maybe when I'm selling out Madison Square Garden I'm gonna order a dolphin, but I'm not there just yet. I've seen a lot of artists' riders and I'm like, damn, you're gonna ask for that? You know, I'm really cool – just gimme my check!"
4. It's all about the MUSIC and the $$$, not the fame.
"Any time I got a paycheck on tour I was like 'YASS, I see why I do this!' I was collecting a lot of content for my new album in Europe, experiencing new things and visiting friends. I spent a lot of my days off in Berlin, which is now one of my favourite cities to visit. I think a lot of young people should travel, if they have the opportunity."
5. Even as a festival-goer, Cakes knew he would perform Afropunk one day.
"The first time I came here, everyone was asking me, 'Are you performing?' and I was like, 'Nah, I'll perform next year.' And the next year, I actually did perform! Afropunk for people of colour is definitely like a pilgrimage. It's the place where you can see perfect examples of black excellence – creative people, thinkers, chefs and artists coming together and just being young and black. It's very important because that's so counter to what's shown in the media – festivals like this are really important to show the other side of the black experience."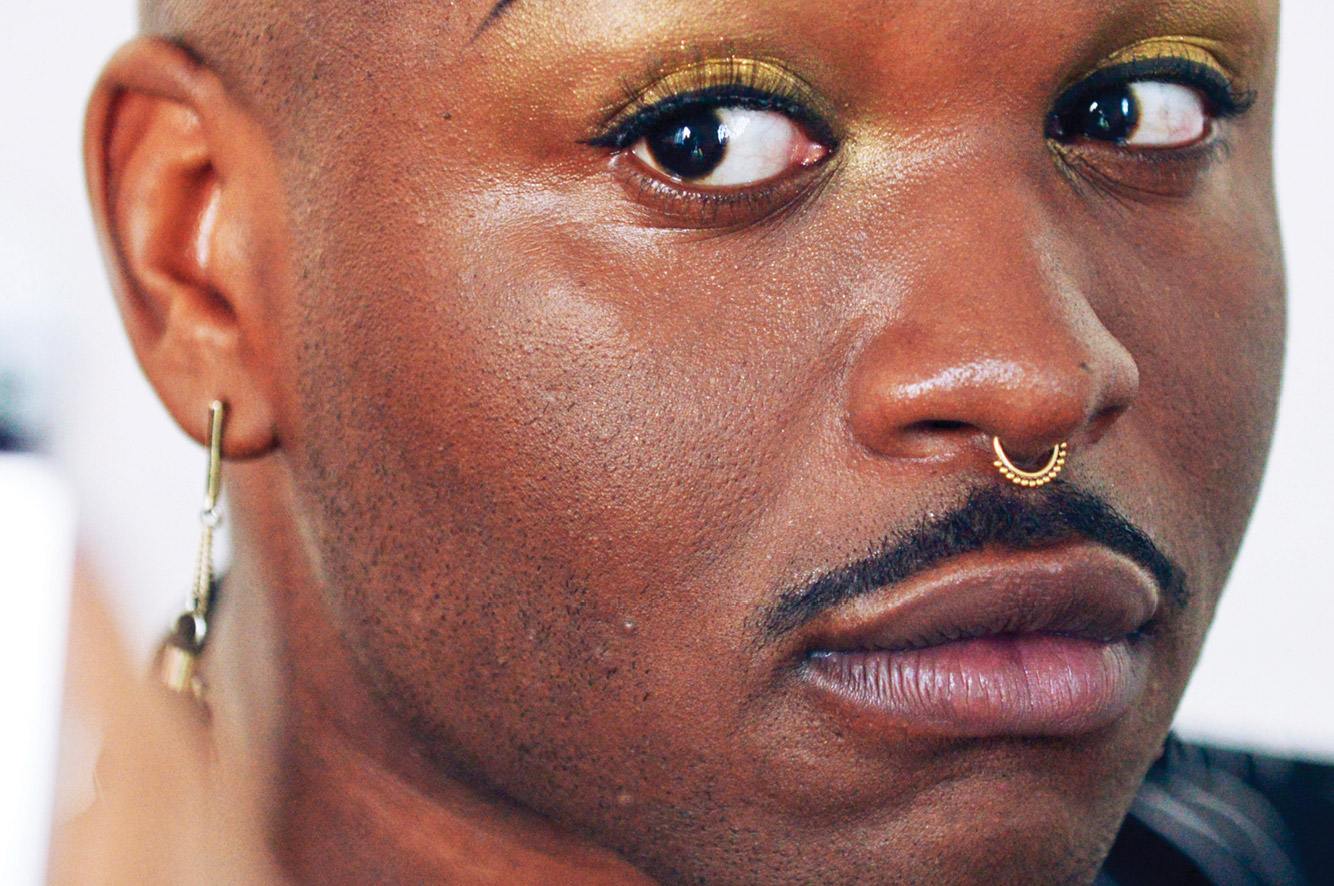 6. His makeup motto is "Put a lash on it!"
"My routine: Skinfinish, throw a little Breezy blush on, and a lash or mascara."
7. It takes a village to put on a unique Cakes da Killa show – because every performance is different from the last.
"Every show is special, so I treat every show as a different entity. I'm really big on teamwork – I have a network of people that I usually work with: dancers, fashion designers, makeup artists, DJs. At Afropunk, we have Yinka Parris my main choreographer and dancer, Tata as the female dancer and DeJaye Jordan."
8. He's newly traded in his outrageously colourful outfits for an all-black fashion statement.
"I'm wearing strictly sleek, black things right now – I've definitely moved on from using a lot of colours. Now, when I throw on accessories or makeup, it definitely accentuates my outfit more."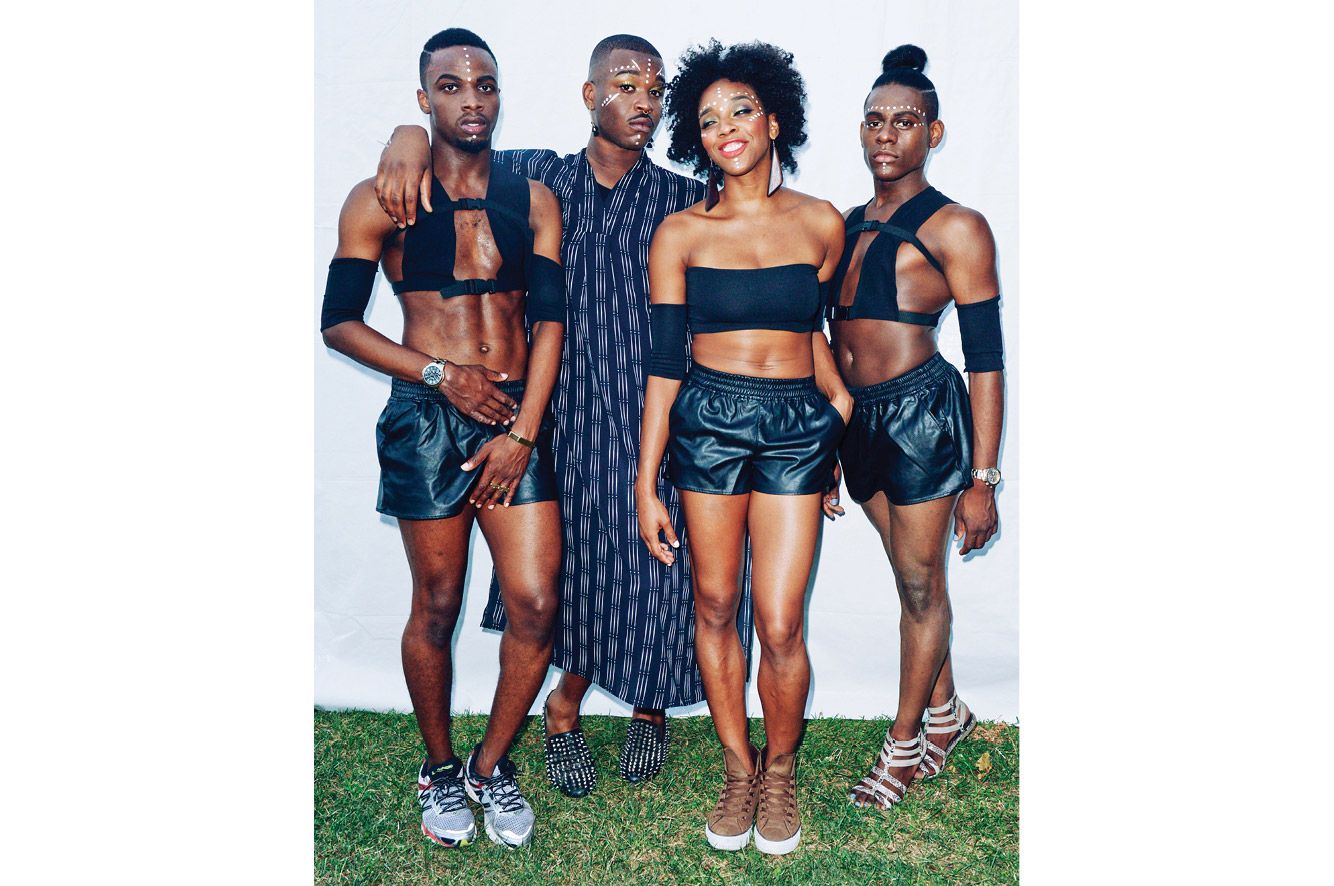 Fatima Thomas, the M•A•C makeup artist behind Cakes' Afro-Futuristic look:
"Cakes sent me some great inspiration beforehand for African tribal elements, mixed with some glam. We're using this nice gold metallic eye shadow, keeping it neutral but with a little bit of umph to it. Then I'll go into my artist's zone and start painting on the face, putting those tribal elements on.
"We're outside, and it's a little bit toasty out here, so I'm using M•A•C's amazing Pro Longwear products and everything that's waterproof, like this airbrush foundation. A lot of people don't realize you can brush it on – you don't have to use the airbrush can! When Cakes is out there getting his show turnt up, he can blot with a towel and I won't be worried his makeup will rinse away!"
See more images of Cakes da Killa getting ready to rock Afropunk on our Tumblr. Hunger Pangs Deluxe Edition is available at cakesdakilla.com.